Welcome to Hope Community Resources, Inc.
---
Hope Community Resources, Inc. is a non-profit disabilities service provider based in Anchorage, Alaska. Founded in 1968, our company provides services and supports to people of all ages and abilities who experience an intellectual or developmental disability, traumatic brain injury, or mental health challenge.
Our founder, Nancy Stuart Johnson, rejected institutionalization, exclusion, and dehumanizing treatment, and instead provided a home to children with diverse cognitive and physical challenges. Hope believes that everyone has a right to independence, choice, security, and opportunity for a meaningful life.
We operate in six regions of Alaska—Anchorage, Kenai, MatSu, Kodiak, Seward, and Utqiagvik—and statewide on Dena'ina, Central Yup'ik, Inupiaq, and Alutiiq/Sugpiaq lands.
Many of our employees and stakeholders are Indigenous, and it is an honor and a privilege to serve Alaskans in the communities of their choosing. As stewards of the public trust, we strive to operate in a manner that is ethical and transparent and to support communities where everyone is valued, celebrated, and included. Throughout Hope's history we have actively worked to end practices that harm people, families, communities, and cultures.
Qagaasakung. Quyana. Quyanaq. Quyanaa. Haw'aa. Nt'oyaxsn. Gunalchéesh. Tsinaen. Dogedinh. Mahsi'. Baasee'. Chin'an. Tsin'ee.
Thank you to our Indigenous hosts across this beautiful place we call home.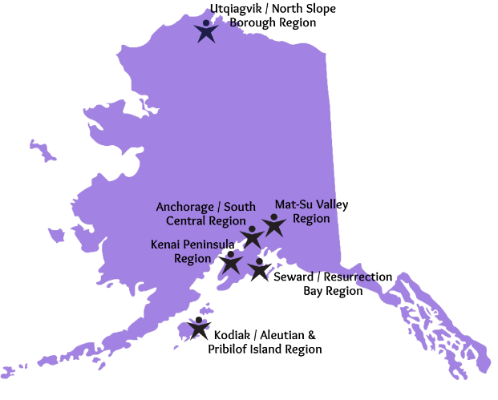 ---
---