53rd Annual Walk & Roll for Hope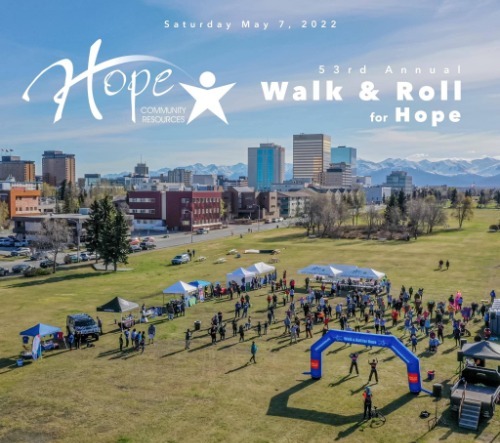 Thank you to everyone who participated in our annual Walk & Roll for Hope!
With your help and the partnerships with our great community, we raised more than $53,000. These funds will go toward necessary housing repairs, remodels, and improvements for the people we support.
This year's Walk & Roll for Hope took place on Saturday, May 7, 2022. Hope has hosted this event each year with the support of thousands of Alaskans who gather pledges and walk, run, bike, or roll to bring awareness to critical disability services in Alaska.
For 53 years, Hope has focused on removing barriers and building bridges to meaningful lives. Each day offers new opportunities to deliver mission, even in the midst of challenges. Hope has spent significant funds to ensure our employees and support recipients stay safe and healthy and are able to still provide and receive services.
The Walk & Roll for Hope has been a vital source of revenue for Hope for the last five decades, raising essential funds to augment the ever-growing unfunded needs that are fundamental to the continuation of quality programs and services.
Your participation is crucial in helping to provide necessary funds to stabilize and maintain services to Alaskans who experience an intellectual, developmental or other disability, a traumatic brain injury, or a mental health challenge.
If you were unable to participate in this year's Walk & Roll event, or if you'd like to continue giving to Hope, click here to make a donation.
Anchorage Walk & Roll for Hope Photos
Kenai Walk & Roll for Hope Photos
---